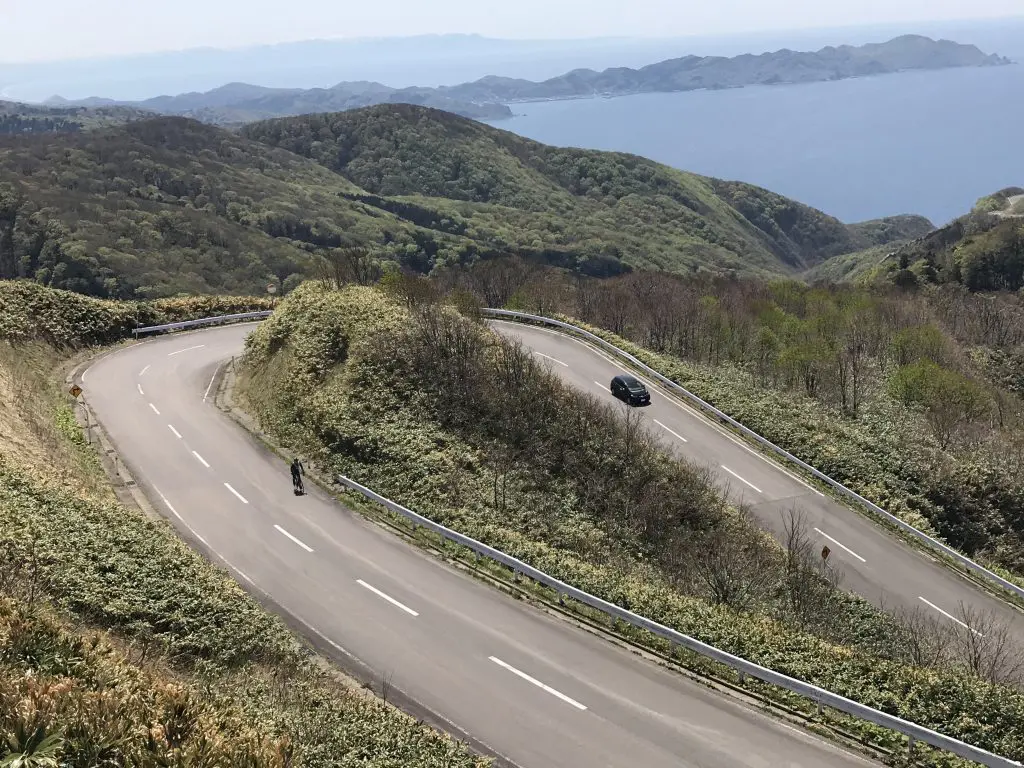 RACE ACROSS AOMORI 650km
The Only  RAAM Qualifier in Japan
1.Overview
The Ride Around Aomori 650km (2022edition) is the only  RAAM Qualifier to be held in Japan.  The 400 mile route passes through the most scenic areas of Aomori Prefecture, located at the northernmost tip of the Island of Honshu, Japan. From the Jomon prehistorical period of Japan, Aomori Prefecture, together with Hokkaido, the  northernmost Island of Japan, has had strong trade and cultural ties with the eastern coastal areas of Siberia, which now lie within Russian territory. Between the 18th and 19th centuries, Russian whaling ships often visited the coasts off Aomori, while in turn, many Japanese fishing boats were saved by the Czarist Russia Navy when they sank off the coast of Siberia. In 1871,  the intrepid British traveler, Lady Isabell Bird, passed through Aomori prefecture during her six month journey through this remote area of Japan. The Ride Across Aomori route will trace some parts of the route described in her travelogue titled " Unbeaten Tracks of Japan", a best-seller that vividly depicts the living conditions of the Japanese people as the country was rapidly modernizing in the 19th century. The route starts at the Shin-Aomori Shinkansen Station, a three hour journey from Tokyo. The first 200 km of the route will follow the coast all along the Shimokita Peninsula. The peninsula is sparsely populated with minimal traffic.  Riders will pass through many quaint fishing villages along the beautiful coastline and pristine forest. After leaving the peninsula, the route will start climbing the scenic Hakkoda mountain (elevation 1584 meters), a volcanic mountain range, endowed with many hot springs.  Unless you are extremely fast, you will not have time to bathe. On this part of the route, (about 200km) the climb from Shichinohe Station to Sukayu Hot Spring Spa will be very scenic but quite challenging. During the last 200km of the route, riders will skirt around the beautiful Iwaki Mountain before descending towards the Sea of Japan until reaching Ajigasawa, a coastal village, famous for dried squid that can be seen hanging on poles along the roadside!  From there the route will be mainly flat, covered by thick pine forests until you reach beautiful Tosa Lake.  From there the scenery becomes quite rugged.  The stiff climb up to Cape Tappi will reward the riders with a panoramic view of the Tsugaru Plains, the Sea of Japan , and the Matsumae Peninsula across the Strait of Tsugaru. From here you can get a good view of the southern tip of Hokkaido. The final stretch, along the Mutsu Bay is mostly flat until the goal is reached near the Shin-Aomori Shinkansen Station.
Route:
Shin Aomori Station-Shimokita Peninsula- Shichinohe- Hakkoda- Kuroishi-Hirosaki-Ajigasawa- Tappizaki- Shin Aomori Station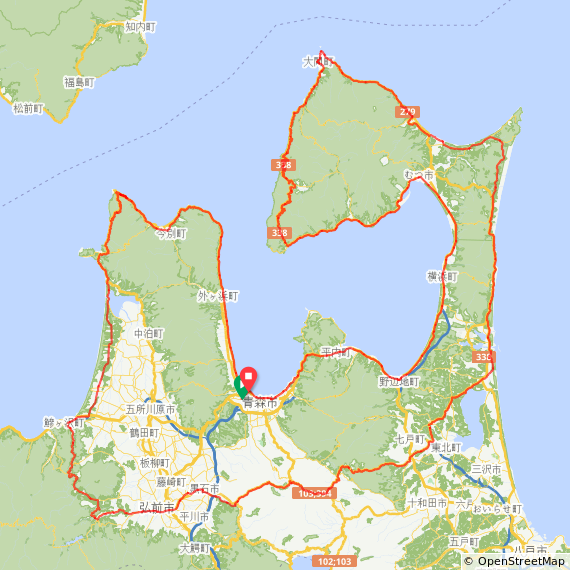 2. Rider's Meeting
September 15, 2022
Time:  17:30-19:00
Bike Inspection will be held before and after the Rider's Meeting.
3. Start Date  September 16th
Location:  New Aomori Station ( specific location to be announced later)
Start Time:  August 20, 2022 , 6:00 a.m.
Final Goal Cut Off Time:
RAAM style qualifier:  September 17, 14:00 (32hours category ) September 17, 16:00  (34 hours category) September 21:00   20:00    (38hours category)
Non-RAAM qualifier category:  August 21, 22:00 (40 hours)
 RAAM Style Solo Category
| | | | |
| --- | --- | --- | --- |
| Solo | Age Category | Time- Men | Time -Women |
|   | RAAM Qualifier  | 32 hours | 34 hours |
|   |   |   |   |
|   | JUCA Time (non-RAAM Qualifier) | 40 hours | 40 hours |
RAAM Style Team Category
Though teams do not have to qualify to participate in RAAM, Race Around Aomori offers a unique opportunity for team building and practicing the RAAM style race.
2, 3, 4 person teams are welcome to participate in Race Across Aomori.  Teams will ride in relays. The decision as to the allocation of time and distance that one team member will race is up to the discretion of the team.
Time limits for 2,3,4,6 member teams:
30 hours  (Septembr 17th, 12:00 noon)
4. Mandatory Requirement for RAAM qualifiers Effective from January 2023, solo racers do not need to be supported by a support vehicle.   Solo racers may ride unsupported and still be qualified to participate in RAAM if they finish within the time limits. However, JUCA strongly recommends all solo riders who are seriously aspiring to race in RAAM to race with the support of a support vehicle and crew, because support vehicles are still required to race in  RAAM .
Riders participating as a non-RAAM qualifier must ride solo and unsupported.
There are no team categories for non-RAAM qualifying events.
5.Entry fee:
RAAM Style Solo Riders:  Because solo racers may race unsupported, the entry fee has been reduced.
15,000 yen
RAAM Style Teams:
Team Registration fee:  5000 yen per team Entry fee:   5000 yen  per person
JUCA non-RAAM qualifier events:
5000 yen per person Rules 1. Open to solo riders as well as 2- and 6 person teams. 2. Teams may ride with any number of riders on the road at a time, although riding relay style is recommended. 3. Drafting is not allowed. However, teammates may draft among themselves when there is more than one rider on the road. 4. Participants must race with a support crew (required for RAAM qualification). A minimum of two support crews required. 5. There will be a "Time Trial Start" – riders will be started at one-minute intervals. 6. The course is not marked. Participants must navigate for themselves. In order to be an official finisher participants must ride the entire course within the allotted time. 7. All participants – riders and support crews – must obey all applicable traffic laws. 8. Support must be "leapfrog" during the day and "direct-follow" at night. Nighttime is defined as 7 pm-7 am, or as conditions warrant. 9. Riders and crew must not impede traffic. If two or more motorists and/or a single motorist is backed up behind a support vehicle for more than 2 minutes, that support vehicle must pull over as soon as possible to allow other motor vehicles to pass. Remember, those riders with support vehicles cannot advance at night without their support vehicles. 10. Support vehicle must be completely off the road when providing leapfrog support or exchanging riders. Rolling exchanges are allowed during the day. At night all exchanges must be made after coming to a full stop. 11. Bicycles ridden at night must be fully visible. Lighting must meet the following requirements: white light in front and red light in rear; both front and rear lights must be mounted on the bicycle, although additional lights may be attached to the rider: both front and rear lights must be visible from 100 meters; rear light must be visible day and night; lights may be solid or flashing. Bicycles ridden at night must have reflective tape as follows: crank arms – visible from the rear – at least 0.6 centimeters wide and 2.5 ~7 centimeters  long; wheels – visible from both sides – 3-4 pieces each at least 2.5~7 centimeters long. Reflective material must not be on the braking surface of the rim. Notes: (1) When placing reflective tape on the wheels, frame or components, it is wise to first place a strip of easily removed tape, such as electrical tape, then place the reflective tape; and (2) Some wheels, frames and components come from the factory with reflective surfaces. In this case, those may be sufficient and additional reflective tape may not be necessary. The Officials will make that determination during the inspection process. We strongly recommend reflective clothing for racers and crew during nighttime hours. 12. A maximum of 2 support vehicles is permitted per entry, solo or team. Support vehicles must be equipped with the following: Race numbers on front, rear and both sides. RVs are not recommended.  13. Approved cycling helmet must be worn at all times. 14. Participants (rider or support crew) must text race headquarters from each time station and report rider's time of arrival. Riders need not stop at the time station. If a rider abandons the race, the race director must be notified. 15. Violations of these rules will result in the issuance of time penalties. Each violation will result in a 15-minute time penalty. The fifth penalty will result in disqualification. 16. The time limit for solo racers is 62 hours 30 minutes  for solo men, 69 hours 30 minutes for solo women, and the time limit for all teams is 55 hours  minutes.
6.Insurance
All riders must have third party liability coverage of at least 100 million yen. 7. Entry:  please contact maya@gol.com Entry page: